Royal Engagement Rings
The very concept of royalty seems a bit dated in our modern, democratic world. Despite this, however, royal families around the world continue to captivate our hearts and minds, even if they don't generally exercise much political power anymore. Take, for example, the royal wedding that took place recently between Prince William and Kate Middleton, which was a major televised event that attracted millions of international viewers. For whatever reason, royals hold a special place in our hearts. Because of their classically glamorous and fabulously wealthy reputation, royalty tend to be major trendsetters—which means we all want to know what they're wearing.
Jewelry is one facet of royal fashion that we find particularly fascinating, despite the fact that most of us could never dream of affording the kind of pieces they regularly don. That doesn't make us any less curious, though! Here are some famous pieces of jewelry worn by royalty around the world.
Princess Di's Engagement Ring
This engagement ring originally belonged to Princess Diana and is now worn by her son William's wife, Katherine (formerly known as Kate Middleton). Diana caused a stir when she picked out this ring; rather than going for a custom-made, one-of-a-kind ring, she chose one that could be picked out and worn by any commoner. This choice only served to make her even more beloved in the hearts of all those "commoners," however, and she wore the $30,000 ring with pride. After her death, her sons Harry and William were given the chance to go through her jewelry and pick out some pieces to hold on to. Harry chose the ring, which features an 18-carat sapphire and 14 smaller white diamonds, but when William was going to pop the question to Kate, Harry happily handed it over.
When the happy couple debuted the ring to the world this time around, sales of replicas shot up astronomically. The sapphire in the ring is valued at $300,000, and the added diamond worth of the ring brings the total value to about half a million dollars. The sentimental and historical value this ring holds, however, makes it truly priceless.
The Duchess of Windsor's Engagement Ring
Wallis Simpson is a fascinating and controversial historical figure. Prince Edward VIII abdicated his throne so that he could marry this divorcee from the United States. At the time, British royalty was barred from marrying anyone with a living former spouse, and Prince Edward decided that being with Ms. Simpson was more important than the throne. This was particularly controversial as Great Britain was on the brink of World War II and Europe was falling apart. Even worse, the couple had long been suspected of being Nazi sympathizers. Luckily, Edward's little brother George was able to take over responsibilities as the new heir to the throne, overcoming his debilitating stutter in the process (as seen in "The King's Speech").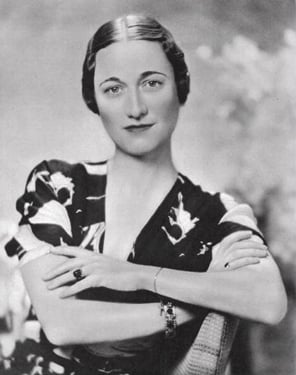 So what kind of engagement ring did Simpson receive? A 19.77-carat emerald inscribed with "We are ours now 27 X 36," shorthand for the date Edward proposed: October 27th, 1936.
Princess Grace's Engagement Ring
Princess Grace of Monaco had a fairy tale life few of us could even dream of. Born in Philadelphia in 1929, she became a beloved Hollywood actress in the 1950s. She met Prince Rainier III of Monaco in 1955 and they were married the next year—meaning she became a real-life princess. So what kind of bling accompanied this marriage? Initially, Rainier presented her with a Cartier band of diamonds and rubies, but after realizing that bigger, flashier diamonds were popular in the U.S., he quickly got her another Cartier ring, this one with a 10.5-carat emerald cut diamond flanked by two baguettes (no, not the bread).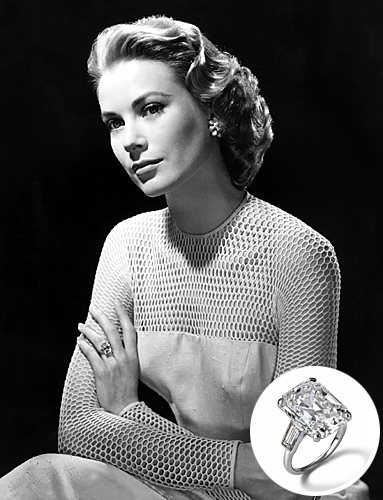 Madeline Marshall is a freelance writer living in Santa Cruz, CA.
Engagement Ring Searches: